MEDFORD, Ore.– For some, southern Oregon has been a place to live life by the countryside. With beautiful valleys, pristine rivers and just a touch of the urban jungle, many have found their way here to enjoy what could be considered simple living. But for most, it's a chance to find solace in collective solitude.
"We all really enjoy the rural feel of our neighborhood and the fact that kids can play outside," said Elena Broadway, a resident on the outskirts of Medford. "We have large yards and no close neighbors. So the whole atmosphere is almost like a small village."
Elena Broadway lives on Starlite Lane, right off of South Stage Road. It's quaint, modest and has a rustic setting founded upon by those who saddled up and made their way West towards the setting sun. It's here you can find farm animals and household pets lounging in the heat and what ultimately makes it so special for the people that live here – it's outside the limits of any city.
At least, that was the plan.
For the last 18 years, the City of Medford has been trying to develop and approve a plan for expansion. Called the Urban Growth Boundary Amendment, generations of city officials worked with residents, the county and the state to get approval.
Last Friday, that hard work came to fruition when the city announced it had finally received all approvals from the Oregon Land Conservation and Development Commission. Naturally, city officials were excited and cheered the success of helping to push Medford forward in terms of building and expanding to help with issues like the housing crisis.
"We can chart our own course, basically, at this point and will do a good job of, I think, taking care and shepherding the process along," said Mayor Gary Wheeler.
Wheeler has been watching this process for the past 15 years, doing what he could to help the expansion from it's earliest forms. For him, it's quite the achievement.
"There will be a lot of things happening," he said. "People have been waiting for this to happen."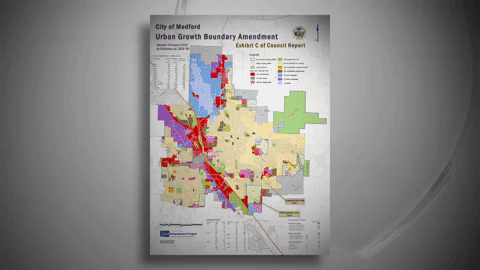 Things will indeed happen. With an acquisition of 1,658 acres for development land and 1,877 acres of wildland parks, this will be the first change to the city's boundaries since 1990. Prescott and Chrissy Park, owned by the county and maintained by the City of Medford, will also be included as official city property with the passing of the amendment.
The approved amendment will allow the city to implement it's 20 year plan of supplying land for housing, commercial, industry and open park land.
"With 80,000 residents currently we expect for that population to continue to grow and allow people to come here and live in Medford," said Matt Brinkley, Medford Planning director. "In order to do that, we need places for people to build houses."
That's where Broadway's neighborhood comes in. It was one of the areas set to be included in the expansion, making the life they wanted to live threatened by a possibility of having to fall in line with city ordinances and codes.
"This was an idyllic neighborhood as far as I'm concerned and I would feel like I could not pursue the rural way of life that I live there for," she said.
According to Broadway, the neighborhood gathered together and last year were able to get their neighborhood excluded from the city's expansion. She describes that it was due to a Local Wetlands Inventory taken into account for the City's Urban Reserve.
Required by Oregon Law, cities must assess wetlands when expanding an Urban Growth Boundary and meet any requirements associated with it. Broadway says that there are several wetlands around the neighborhood allowing the lane to remain a part of the county.
Broadway says that while they were able to be excluded, she wonders why the city needs to expand in the first place. She said the city should in-fill and reconstitute unused or vacant properties to open up more space within the city limits.
However, city officials say they did just that. Brinkley said that his predecessor had battled with this decision before, trying to do the best they could for both sides.
"It was difficult, it was controversial but it was something that was very important for the city to do so that we make more efficient use of the land that we have," said Brinkley. "Because even with this expansion, it's not an infinite amount of land."
While Broadway and her neighbors were able to exclude themselves from the city's plans, the approval has moved forward and exclusions now may be few and far between.
City officials say they're understanding of those who want to keep to more open fields but Medford is growing and it needs to address a boundary that is bursting at the seams.
"I think it's readily apparent that we have a lot of folks wanting to build houses, add more offices and places where you can eat and shop," said Brinkley. "And we anticipate that's going to continue for quite a while."
© 2023 KOBI-TV NBC5. All rights reserved unless otherwise stated.